While you shop til you drop, the following activities may also entertain and delight you at BAZAAR BIZARRE...

MUSIC
Punk Rock Aerobics instructors Maura Jasper and Hilken Mancini will deejay throughout the evening. Rock!

BOOZE, FOOD
For those over 21, the Davis Square VFW has a fully stocked bar. Plus, sandwiches and crèpes...with each flavor combination named for a different punk rocker of yore. Yum!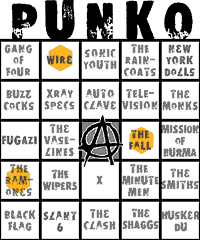 PUNKO
Play a punk rock Bingo game to win crafts and other fabulous prizes. Yay!

SLEAZY SANTA
Have your polaroid taken with this dirty ole Saint Nick and his generally unsavory reindeer. Sleazy Santa (secretly Dave Geissler of Scrapple) may also perform a few holiday musical numbers.
D.I.Y CRAFTS TABLE
Make your own damn holiday gifts with assorted craft supplies.