Here are pictures--click on each image to see more...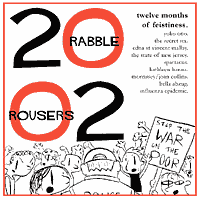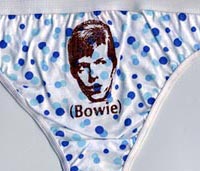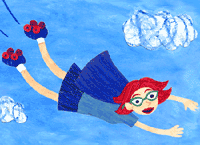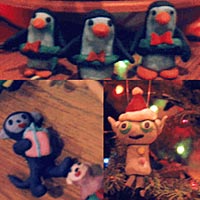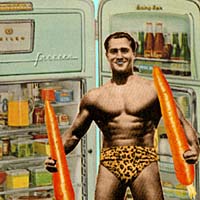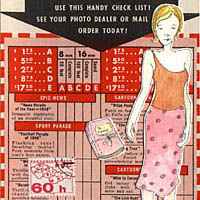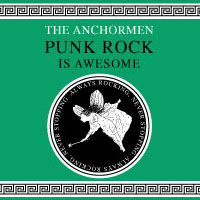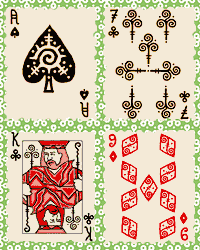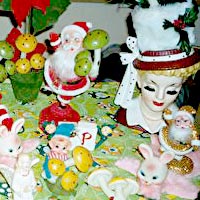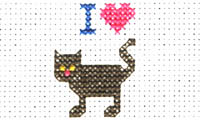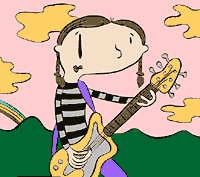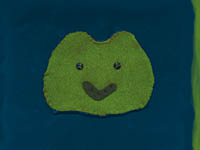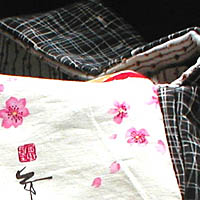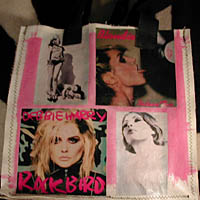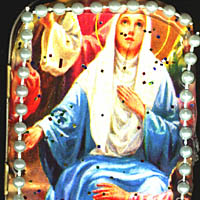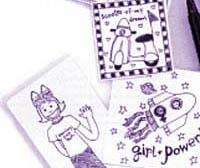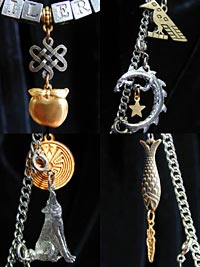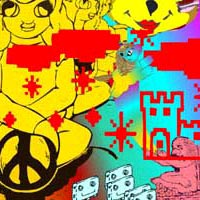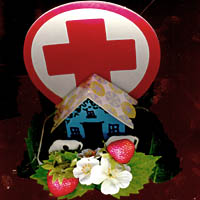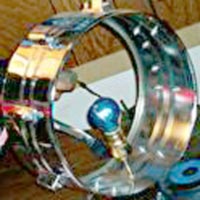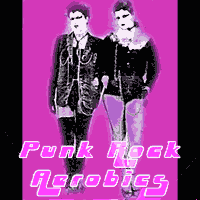 All manner of crafts with a D.I.Y. sensibility will be up for sale at the BAZAAR BIZARRE, just in time for the winter holidays.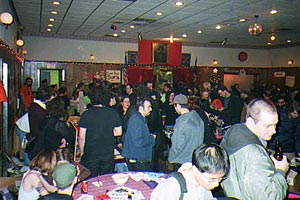 2002 RABBLEROUSERS CALENDAR
Jef Czekaj, Blake Hazzard, Dan Moynihan, Stacie Dolin, Jen Godfrey, Greg Der Ananian, Marisa Suárez-Orozco, Emily Arkin, Jessie Summa-Kusiak, Brooke Corey, Marissa Falco, and Chris Braiotta
A collaborative project from many of the craftartistes of the Bazaar. Each month features a different troublemaker, such as Spartacus, Bella Abzug, Morrissey, The Secret Six and The State of New Jersey.


Emily Arkin
Ho'made Playing Cards, Temp'rary Tattoos
The suits for this card deck were based on a series of spiral doodles, originally meant to be a tattoo design. The deck is 2-color xeroxed and cut with pinking shears. The resulting cards are not completely uniform (apologies to casinos), but they do have a lot of handmade charm (punk rock!). Emily also plays guitar in The Operators and is an amateur animator.

Craig Bostick
Mixed Media Paintings, Comix, T-Shirts
Craig grew up with a fascination for the beach, things blue-green in color and well-built men in tight-fitting costumes who live underwater. The term "grew up" is used very loosely. He currently writes and draws Go-Go Girl, an on-going comic book series he publishes himself. He currently supports himself through his own company Aquaboy Drawings & Design when he's not touring with his band SpoilSport.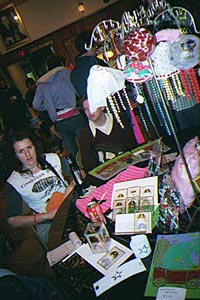 Brooke Corey
Monkeybrain Dreamcatchers, Morbid Noisemakers, Elephant Silkscreens, etc.
Brooke is the owner of the store Flyrabbit in Allston.

Jef Czekaj
Seminal Boston Indie-Rock Mini-Paintings
Weensy little gouache paintings of wussy New England indie rockers: including: The Pixies, Mary Timony, Jonathan Richman, Galaxie 500, Thalia Zedek, Lou-Barlow-era Dinosaur Jr., Throwing Muses, and more, by Jef Czekaj, creator of the comic R2-D2 is an Indie Rocker.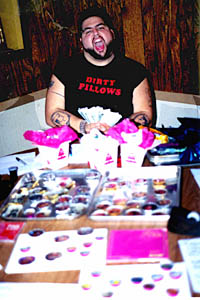 Gregory Nazareth Der Ananian
XXX-Stitch Pillows and Fagnets
Stop on by if you wanna find out who puts the "hole" in wholesome. Check out his radicool XXX-stitch pillows and Fagnets ("feel the attraction"). These aren't your grandma's projects, unless of course your grandma happens to be Hyapatia Lee. Some content may not be suitable for the Religious Right. Bon vivant, raconteur and international dilettante, Greg Der Ananian can be seen performing with his band Prettypony the world over. He can also be seen delighting audiences at truckstop mens rooms nationwide.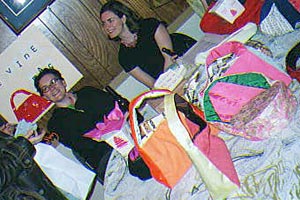 Bridget Devine and Toni MacDonald-Fein
De Vine Mac Handbags
Do you need a bag as fashion-forward as you are? Are you searching for that key accessory that allows you to revitalize your wardrobe and transport your personal belongings? Then you must have a de vine mac handbag. Complete your ensemble with a unique bag designed and crafted by a duo from Somerville. Using fabrics from very diverse backgrounds and histories, these two ladies create bags that have as distinct personalities as do their wearers.



Kristyn Dors
Small Paintings
Her paintings are modernist quasi-portraits of women. This work is a unique blend of Patrick Caulfield and paint. Flat shapes and vibrant colors make beautiful things.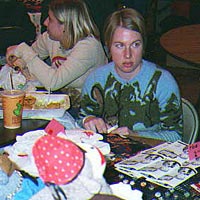 Marissa Falco
Silkscreened Shirts, Collaged Containers, Marble Magnets, Stuffed Animals, Jacob's Ladders and Other Things that Are Fun to Look At
Marissa Falco is the woman behind Red-Hooded Sweatshirt zine, a comic book called Citronella, the "Comic Girl" feature on bluejeanonline.com, and a variety of other tiny drawings about nothing in particular.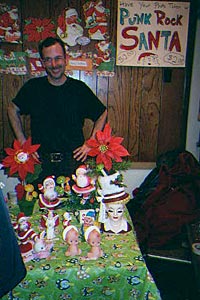 Dave Geissler
Surreal Xmas Ornaments
Psychedelic christmas decorations created with mushroom-themed vintage objects.

Jen Godfrey
Fleece Pillacases
Warm and fuzzy pillowcases with bold graphics

E'beth Haley
Morbid Holiday Cards, Charm Bracelets/Necklaces/Kiltpins, Black Rubber Chainmail, T-Shirts, Fimo Skull Beads, etc.
Plus other assorted discordian, S&M, vegan and goth-themed items.

Suzanne Hinton
Found Object Lamps

Ben Jones
Applique T-shirts, Mini-Comics, etc.

Blake Hazard / Azalea Parks
Collage Greeting Cards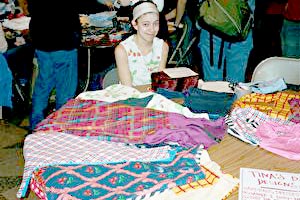 Tina Kaciak
Original D.I.Y. Designs
This collection will feature an assortment of unique handmade apparel & accessories. Items will include dresses, skirts, handbags, bracelets, and totebags. Uncommon fabric combinations, silkscreen, applique, and rhinestones/studs will be a major theme. Everything is completely original and made from my own hands, no imitations!

Helen Matthews
Silkscreened Items with Feminist and Other Political Messages

Lisa McColgan
Religious Tchotchkes and Tins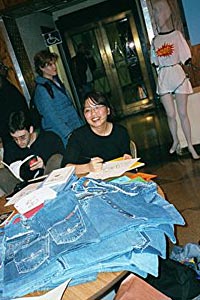 Julie Morris
Gimp, Baked Goods
Julie is a 13-year-old gimp (lanyard) artiste.

Dan Moyniahan
T-shirts, Whimsical Block Prints, Comics, Mini-Comics, and Micro-Comics
Dan lives, draws, paints, and does lots of other stuff in Somerville. Subject matter includes flying girls on rollerskates, ghost cats, monsters, bugs, sculptural hair-styles, and boring real life stories.

Unha Park
Handmade Bags, Xmas Cards, Stickers, Curious Brain Merch, etc.
Unha is a multimedia designer/illustrator/an aspiring dj/musician and the founder and director of Curious Brain.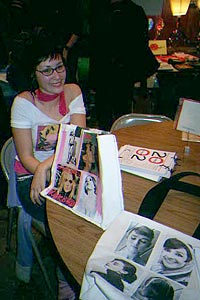 Buick Prentice / "b. audra pink" Clothes
Punk Panties
Handscreened and detailed undies for women and a few options for men too. Designs based on Bowie, Blondie, TAFKAP, Joey Ramone and others...

Marisa Suárez-Orozco
"It" Girl Distro Tote Bags
Fashion for all you riot ladies! Canvas tote bags with images of pop icons and old film stars. The line features "It" girls like Marilyn Monroe, Twiggy, Blondie, Clara Bow, Audrey Hepburn, Bettie Page, etc. The "It" Girl distro is Marisa's high school senior project. She is donating all profit to Rosie's Place, a women's shelter in Boston. Not only will you be an "It" girl rockin these bags, but it's for a good cause!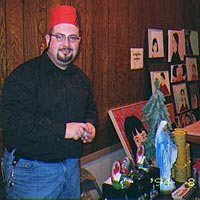 Josh Yeager
Shrinemeister
"I seen Jesus in my fridge door!" Local junk artist Josh "Shrinemeister" Yeager brings the hand of God to dumpster diving with his uniquely engaging shrines. Herr Yeager combines found objects, religious figurines, and sparkly baubles to create post-modern works of popular devotion with a unique Teutonic flair. "God is all around us..." evangelizes Josh, "...even in your junked fridge, medicine chest, or old shoe box." These extraordinary edifices of divine detritus will touch you in a biblical sense.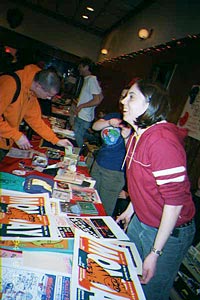 Handstand Command
Silkscreened Posters, 7" Records, T-Shirts, CDs with Fancy Packaging, etc.
Lots of collectible merch from Somerville's favorite music collective. The bands are: The Anchormen, The Operators, Scrapple, Sinkcharmer, The Tardy, etc.

Punk Rock Aerobics
T-Shirts, Membership Gift Certificates
Come to class; get off yr ass.